■Agaitida 2023
at Pension Yonahadake in Okinawa
Agaitida IG @agaitida_okinawa
*

The English text is below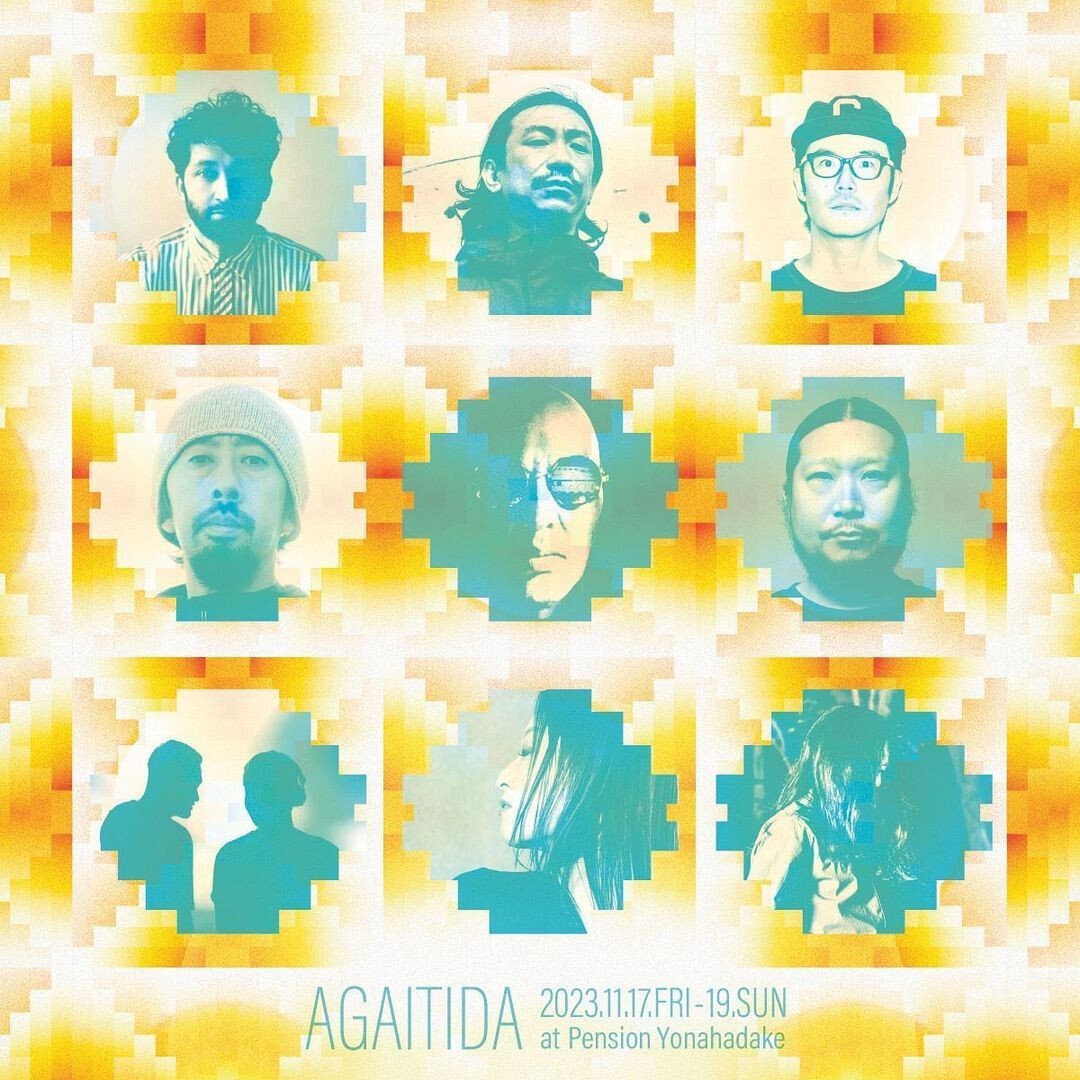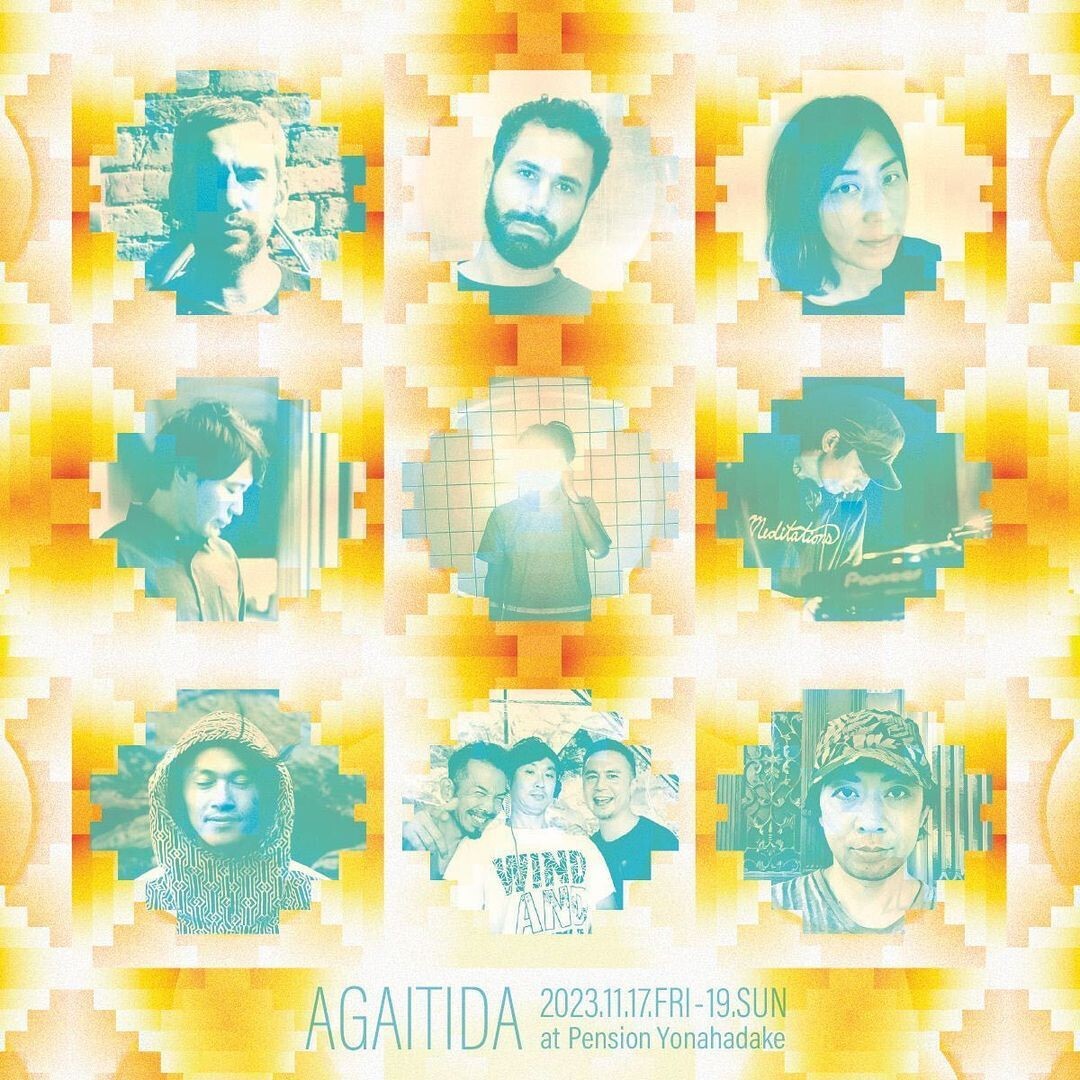 ■Lineup
■Sound/Deco/VJ/Activity
SOL
STAGING OKINAWA
(d&b audio technik)
Samaya Design
SF TENT
Jungle Studio
100LDK
VJ KOTA
SENSE OF WONDER
Bubble Art Onchi
焚き火革命団
The ninth to be held in Kunigami Village, a World Heritage Site. This year's lineup is the most focused Techno/House in Agaitida's history. Four international artists, and pioneers from Okinawa, Tokyo, Kansai, and Hokkaido who have promised the set and sound quality. d&b audio technik's high-resolution and delicate sound expression is sure to be enjoyed by all.
Agaitida is setting up in the pristine deep forests of Okinawa, at the Pension Yonahadake on a hill in a national park with a great view of the sunset and the islands in the distance, an incredible location. We will also welcome the best scenographers from the east and west of Japan for the video, lasers, decorations, and soap bubbles.
About hospitality, ticket prices are going down, tent rentals are available in a variety of sizes, and access is via a cab ride from the bus stop nearest the venue, making participation easier than ever.
Agaitida will be held once every two years and will serve as a bridge between Southeast Asia and Japan. A message (life experience) that we hope you will receive that the path to the world has opened up now!
| Ticket Information


・Please confirm your selection, details and precautions once again before purchasing tickets.
・No refunds or lost tickets will be accepted after tickets have been purchased.
・One camping/parking ticket is valid for multiple people.
    Camping space is limited to 5M x 5M per lot due to limited space for installation.
・Those under 18 years of age do not need an admission ticket, but must be accompanied by a parent or guardian.
We may ask to confirm your age. Please have your proof of age ready.
・The event will be held even in the event of rain. In the event that the event cannot be held due to inclement weather, etc., a separate announcement will be made.
・Wristbands given at the time of admission cannot be reissued. Please do not remove it during the event.
・Please contact "press@liquiddropgroove.com" for any question.
  We may not be able to answer inquiries from social networking sites.
■1. Entrance Ticket
Phase1 10,000 yen (Zaiko 8/31-10/30)
Phase2 12,500 yen (Zaiko 10/31-11/16)
No tickets will be sold to Okinawa residents this year.
 
■2. Camping + Parking Setup Ticket
Onsite [Camping + Parking] 15,000 yen, limited to 30 tickets
Forest Park [Camping + Parking] 5,000 yen
 
■3.Parking ticket
Forest Park Parking (10 min. walk) 3,000 yen, 130 spaces
 
■4.Camping ticket
Forest Park Camping 2,000yen
Forest Park Auto Camping 10,000 yen Limited to 8 tickets
*Price for one tent; tarps are also eligible for camping tickets.
 
■5. Rental tent (with inner mat)
Tent rental for 2 persons: Coleman/Touring Dome 7,000 yen
Tent rental for 4 persons: Coleman/Excursion Tepee 8,000 yen
Tent rental for 5 persons: Coleman/Tough Dome 10,000 yen
Tent rental for 6 persons: Snow Peak/Amenity Dome L 12,000 yen
*Please bring your own bedding.
*Tarp rental is not available on the day of the event.
*Forest Park camping tickets are sold separately.

▼Access to the venue
・ Coming by car
Approximately 120 minutes by car from Naha Airport via the Kyoda Interchange.
・By public transportation
Naha Airport → Nago Bus Terminal → Hentona Bus Terminal
11 minutes by cab from Hentona Bus Terminal
Cab company information will be provided at a later.
・Pension Yonahadake
2040-101 Okuma, Kunigami-mura, Kunigami-gun, Okinawa 905-1412
■Event Information
・Alcoholic beverages and food are not allowed in the Agaitida venue.
Alcoholic beverages, food, and cooler boxes are not allowed in the Agaitida venue.
*We will check at the entrance.
*Baby food for children may be brought into the venue.
・Parking on the street
Parking on the street is strictly prohibited.
Paid parking is limited to 130 cars and is a 10-minute walk from the venue.
Please come to the event by riding together as much as possible.
・Roadkill Prevention
Agaitida and Kunigami Village Forest Park has suggested people to enjoy the outdoors that respects nature to preserve the diversity of the Yanbaru forest for future generations. Please be notice of the following points.
In Kunigami Forest Park, creatures often jump out onto the roadways on rainy days and at night. Please drive at a speed of 20 km/h or less in the near of the forest park and watch your step carefully. Also, please be careful when walking. For example, snails are important role in this forest because they are food for the Okinawan rail.
・Pet
Pets are not allowed in the park for the wildlife in Yanbaru.
・Observation of wild animal, insect and plant
Please do not catch wild animals, insects, or plants, as this may destroy the ecosystem. Let's protect Yanbaru forest together.
・Wood for burning
Wood for bonfires is available in the forest park. Please keep in your mind that fallen trees may have living creatures attached to them, so please keep them in natural state to protect the environment.
・Bonfire
Please bring your fire pit and fire retardant sheets for use.
・Firework
Please stop fireworks as it scare wild animals.
・Trash
Please take your garbage with you.
・Light
Please bring your lights as it is pretty dark at night in the Forest Park campground.
share
Pop-out